You requested it, we listened, it took some time to make it happen… and now you can use TabPy, Rserve or any other analytics extension with Tableau Online!
To be able to enable the feature you need to be a site admin. In a similar way how on-prem Tableau Server is configured (see Multiple Analytics Extensions Connections with Tableau Server 2020.2 for details) for Tableau Online go to Settings, Extensions, set checkbox Enable analytics extensions for site and click Create new connection link. In popup window specify connection type, host, port and credentials.
NOTE. Tableau Online requires analytics extension connection to use SSL and authentication. This link shows some authentication related posts – https://tabscifi.golovatyi.info/category/authentication/. And with this link you can find some additional information about SSL and certificates – https://tabscifi.golovatyi.info/category/security/.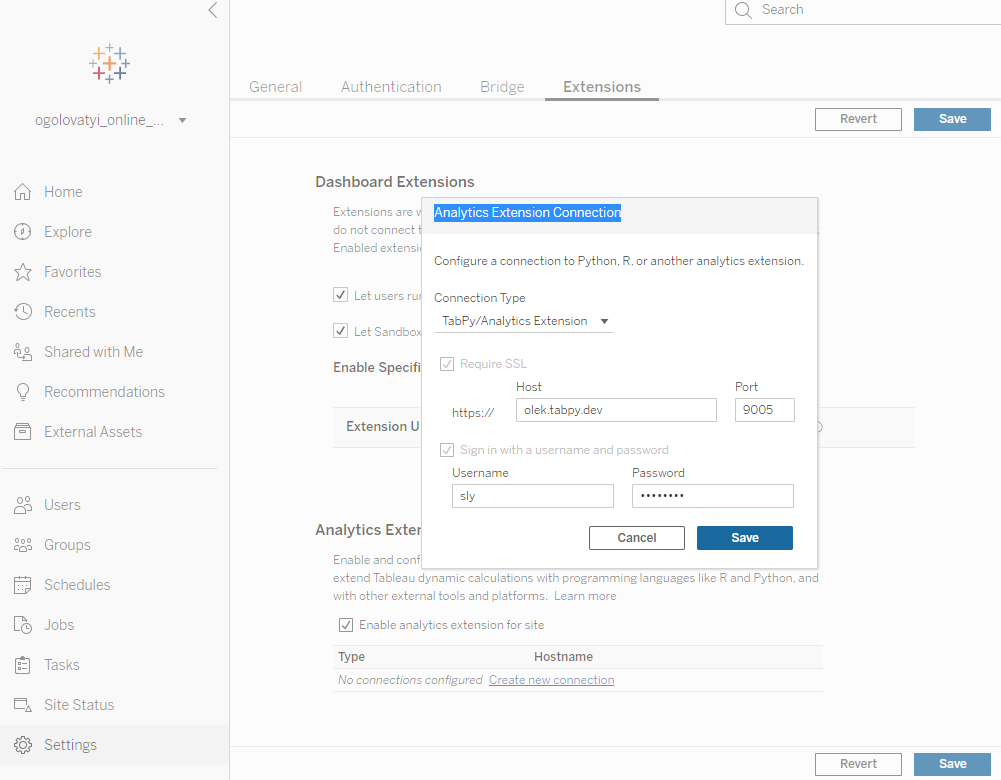 After configuring the connection click Save in the dialog window and then Save on the page. That's it – now you can publish and use workbooks with Python/R/you-name-it scripts in them…
Actually there are couple more things to consider:
Your analytics extensions instance should use a certificate that Tableau Online can trust. It means no self-signed certs or certs issued by your organization. Those should be certs signed by one of well known CAs (Certificate Authority), e.g. DigiCert.
It has to be an endpoint (host and port) that is reachable for Tableau Online via the internet. If the analytics extension you are planning to use can be reached outside of your organization network Tableau Online should be able to see it too.