With Tableau Desktop 2020.1 released (https://www.tableau.com/support/releases/desktop/2020.1) there are plenty of improvements and new features. But for the purpose of this blog let's take a look at External Services the most significant change.
The change is for how secure connection is created. When configuring a connection with main menu Help, Settings and Performance, Manage External Service Connection… here's how new configuration dialog looks like: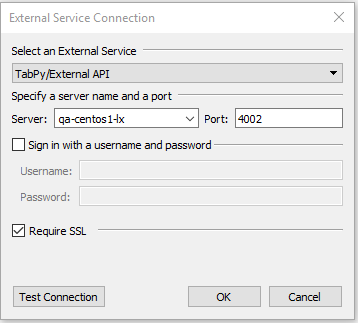 What is different there is no link to specify a certificate for secure connection – there's just Require SSL option.
To compare this is how the same dialog looks in Tableau Desktop 2019.4: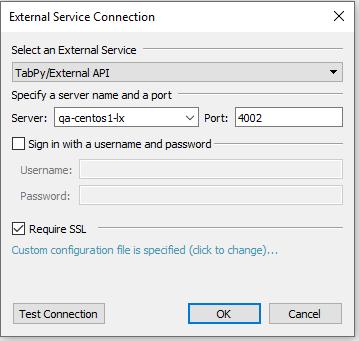 How certificate validation works now is instead of comparing server (TabPy, Rserve, etc.) certificate with user-provided certificate Tableau validates the server certificate and trusts it only if it is installed as a trusted cert on the client OS or if it is signed with a trusted cert.
The server certificate can be signed with an intermediate certificate that can be signed with another certificate and so on until there's a root certificate Tableau can trust.
For self-signed certificates (those which are not signed by any other certificate) they should be installed as trusted as well.
For how to install a certificate and make it trusted read documentation for your OS (the steps are very different for each OS).
NOTE: Rserve only sends leaf certificate and not the whole chain (there's an issue opened for that – https://github.com/s-u/Rserve/issues/140) which makes it impossible to validate the certificate on the Tableau side unless the whole chain is installed as trusted.
Documentation for this new UI and behavior is at https://help.tableau.com/current/pro/desktop/en-us/r_connection_manage.htm page.